Beauty Under One Roof…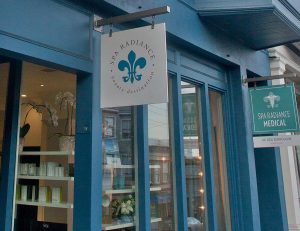 For those of you who don't know me, my name is Angelina and I am the owner of Spa Radiance. It has always been my dream to create an extraordinary space for people to relax, heal, and feel beautiful inside and out.
In 1975, my mother and I started Spa Radiance with this dream in mind. More than thirty years later we have a thriving business that has proven to be one of the top spa destinations in the Bay Area.
Five years ago we helped launch Spa Radiance Medical to offer the latest advancements in medical skin care.
Today Spa Radiance Medical has seven expert nurses offering laser hair removal, photofacials, Botox, derma-fillers, spider vein treatments, advanced acne treatments, and skin tightening.
Our nurses work in partnership with our esthetics team to build unparalleled programs for our clients that produce lasting results.
And now to complete our offerings we have just partnered with Dr. Rick Burroughs to offer dermatology at Spa Radiance.
I am so humbled that my dream has been realized and I can now offer you the latest skin care treatments and dermatology under the same roof. I hope you enjoy our new offerings!
With warm regards, Angelina